1st Laos International Open Chess Championship
Source: chessbase
Laos is not a country that garners many international headlines, much less regarding its chess scene. But Singaporean contributor Edwin Lam reports that they seem to have made good progress, particularly in the area of Chess in Schools, which has the strong support of the government. Most importantly, they are hitting key milestones in chess education at the grassroots level, amongst administrators (for instance via FIDE Arbiters' seminars), and in tournament play (running local events). And come this January, 2018, they will be hosting Laos' first-ever international open!
This January 2018, you are invited to visit Vientiane by the Laos Chess Federation (LCF) and play in the first ever Laos International Open Chess Championship! This inaugural international chess tournament, which will take place from January 2nd to 8th, 2018 (inclusive of arrival and departure dates), and will also serve to kick-start activities and celebrations planned as part of Visit Laos Year 2018.
This is going to be a FIDE-rated event with nine rounds and a time control of 90 minutes plus 30 seconds of increment per move for each player. The total prize fund of USD $10,200 is up for grabs at the tournament, a point that will surely serve as music to the ears of the global chess gladiators. Players will do battle at the 5-star Don Chan Palace Hotel & Convention, which is located on the bank of the mighty Mekong river and offers a nice view of both Vientiane and neighbouring Thailand.
"Wave" of Chess in Laos
For a country of seven million people, chess was relatively unknown prior to the year 2011. This has all changed in recent years with the increasing popularity of the game. Today, there are thousands of junior players who are actively involved chess.
The chess "wave" started with the establishment of the LCF in 2011.
Chess in schools
Soon after the inception of the LCF, the Ministry of Education and Sports gave their approval to the "Chess in Schools" program, which saw the incorporation of chess as part of the school's curriculum. To-date, the program has been successfully implemented in all but two provinces.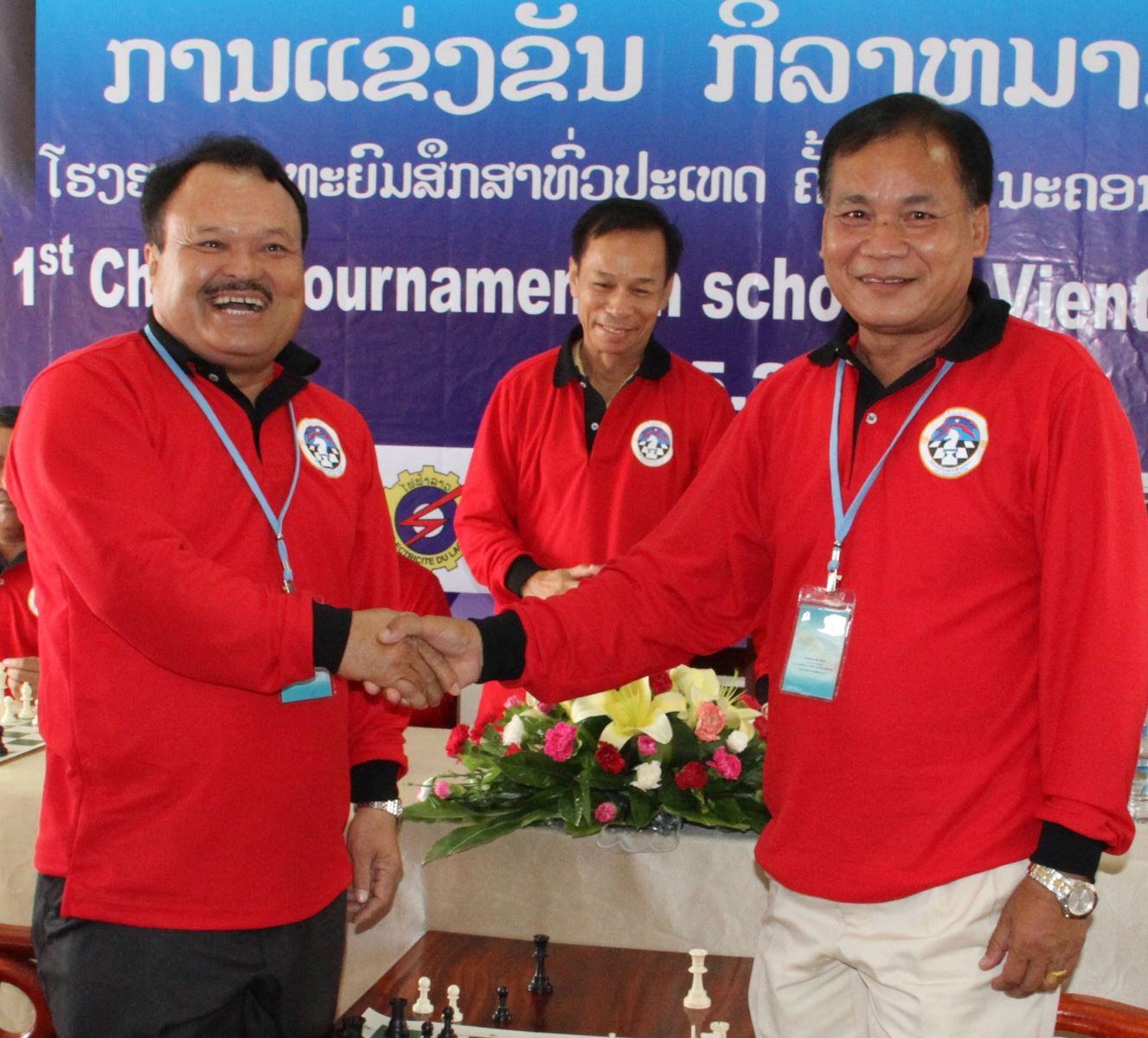 President of Laos Chess Federation, Dr. Inthirath Khammany, officiating a school tournament
The LCF, under the leadership of its President, Dr. Inthirath Khammany, who is also the Minister of Energy and Mines, continued to push for further chess development. The LCF became a member of the Laos National Olympic Committee and with it, chess was included in the country's National Games.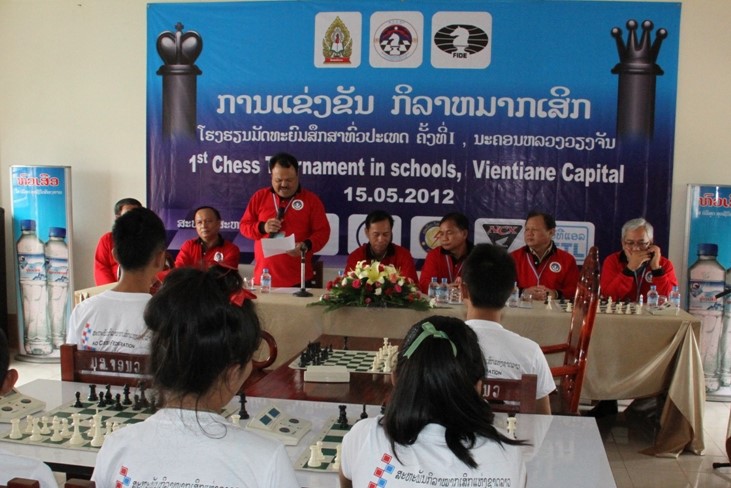 2012 marked the first time a Laotian junior chess tournament was held in schools
This was followed by the acceptance of chess as a sport in the tri-annual National School Games. With its eye focused on junior chess development, the LCF in 2014 went on a learning visit to Singapore. A delegation, led by Dr. Khammany, visited the island state to learn about organizing school chess championships.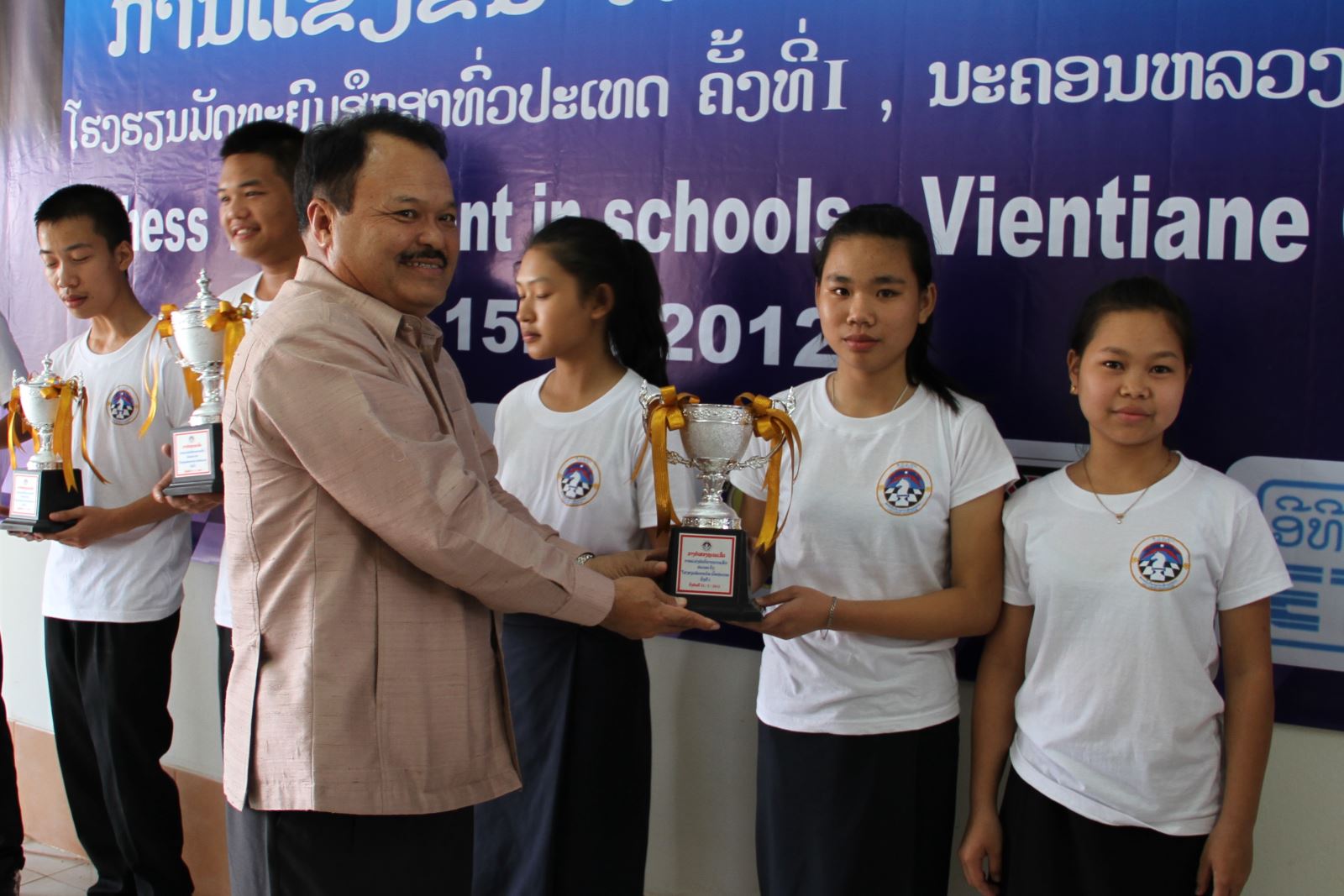 Dr. Khammany giving away prizes to the winners
Two other milestones in 2015 were the organizations of its first-ever FIDE-rated tournament as well as the FIDE Arbiters' Seminar.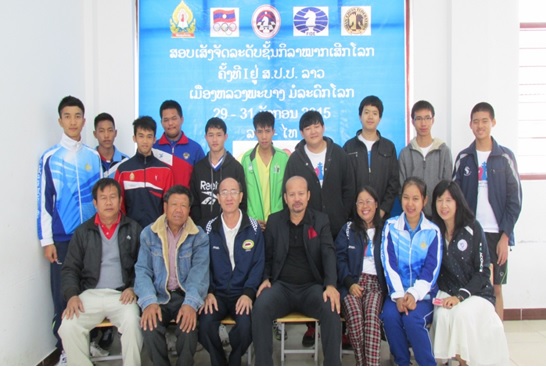 LCF General Secretary John Inthava Vilavane (seated centre) at Laos' first FIDE-rated event
Both these efforts were led by the General Secretary of LCF, John Inthava Vilavane, whose organizational skills and hard work culminated in the birth of eight FIDE-rated Laotian players as well as fourteen qualified arbiters.
Thousands of school children are now playing chess
The interest is so high that they'd play anywhere, anytime and even in any situation…
…even using bottle caps when actual chess pieces are not available!
Besides concerted efforts in schools, the LCF sees the value of bringing on a higher level of competition to the local players. With this in mind, the LCF made the decision to organize this 1st Laos International Open Chess Championship. This, together with LCF's other efforts to promote chess in schools, will further accelerate the interests of students towards the game.
Come for the chess, stay for the rest! Immerse yourself in multi-cultural Laos.
With its 149 ethnic groups together with Buddhism influences and the French way of life, Laotians are a melting pot of diversity. These diversities can be experienced when you stand in awe of the 500-year old Donekeo Stupa, or by climbing up the Patuxai Arc.