917 People Killed in Road Accidents
Source: KPL
Traffic Police Department, Ministry of Public Security has reported that 917 lives have been killed in road accidents nationwide over the past 11 months with Vientiane Capital sharing the highest number of road accident casualties.
"Over 5,190 road accidents were reported nationwide with 8,541 people injured, 465 vehicles damaged," said Deputy Director of the Traffic Police Department, Lt. Col Khamsone Sidavong.
Vientiane witnessed over 1,200 road accidents and 188 people killed in the accidents.
In 2016, 5,610 road accidents were recorded along with 4,058 people injured and 1,086 people killed.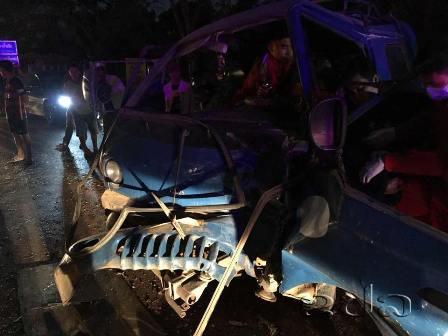 The police attributed the large number of road accidents to the increase in the number of vehicles, traffic rule violation, especially among motorcycle users.
Substandard roads and lack of adequate traffic facilities were also considered as a cause of road accidents in the country.
"Annually, we organize various activities to raise awareness of traffic rules, conduct road safety campaigns urging general public to drive safely and use helmets when using vehicles," said Lt. Col Khamsone.