China's US$7 Billion Railway Link To Laos Is Almost Half Done, On Schedule To Begin Service In 2021
Source: South China Morning Post
The 414km railway from Yunnan's provincial capital of Kunming to the Laotian capital of Vientiane would cut travelling time to three hours, from three days
Laos, where subsistence agriculture makes up half of the economic output, is dependent on China to bankroll the US$7 billion project, raising concerns of being caught in a debt trap
China's railway line to Laos, a 414km (257 miles) link between Yunnan's provincial capital of Kunming and the Laotian capital Vientiane, is almost half complete, putting it on schedule to begin service in December 2021, said the chief of Lao Railways.
Trains on the line can travel at up to 160 km/h (100mph), cutting the travelling time between the two cities to three hours from three days, said Lao Railways' director general Somsana Ratsaphong. Tickets will start from US$20 a trip.The US$7 billion project is a showcase of Chinese President Xi Jinping's "Belt and Road Initiative" for rebuilding infrastructure along the ancient Silk Road from China to Africa and Europe, which has garnered an estimated US$460 billion in investments since its inception in 2013. The Kunming-Vientiane link would eventually connect with a railway line to Bangkok, and southward along the Malay peninsula through to Singapore.
The Chinese government will bankroll 70 per cent of the cost of the railway, while Laos – where subsistence agriculture makes up half of the economic output – pays for the remaining 30 per cent with loans from Chinese financial institutions. China was the biggest foreign investor in Laos as of 2016, having invested US$5.4 billion since 1989.
"For an economy like ours, with a population of only 6.8 million people, it is good for us to make use of the manpower and finance from China," said Ratsaphong, during the Asia-Pacific Rail conference in Hong Kong.
Part of the loan's tenure will be interest-free, with a 2 per cent annual rate charged over 30 years, according to Ratsaphong. The financing terms have raised concerns among developing nations of being pushed into a debt trap, as debtors may find themselves saddled with large borrowings that would take a long time to repay.SUBSCRIBE TO SCMP Today: HK EditionGet updates direct to your inboxBy registering for these newsletters you agree to our T&C and Privacy Policy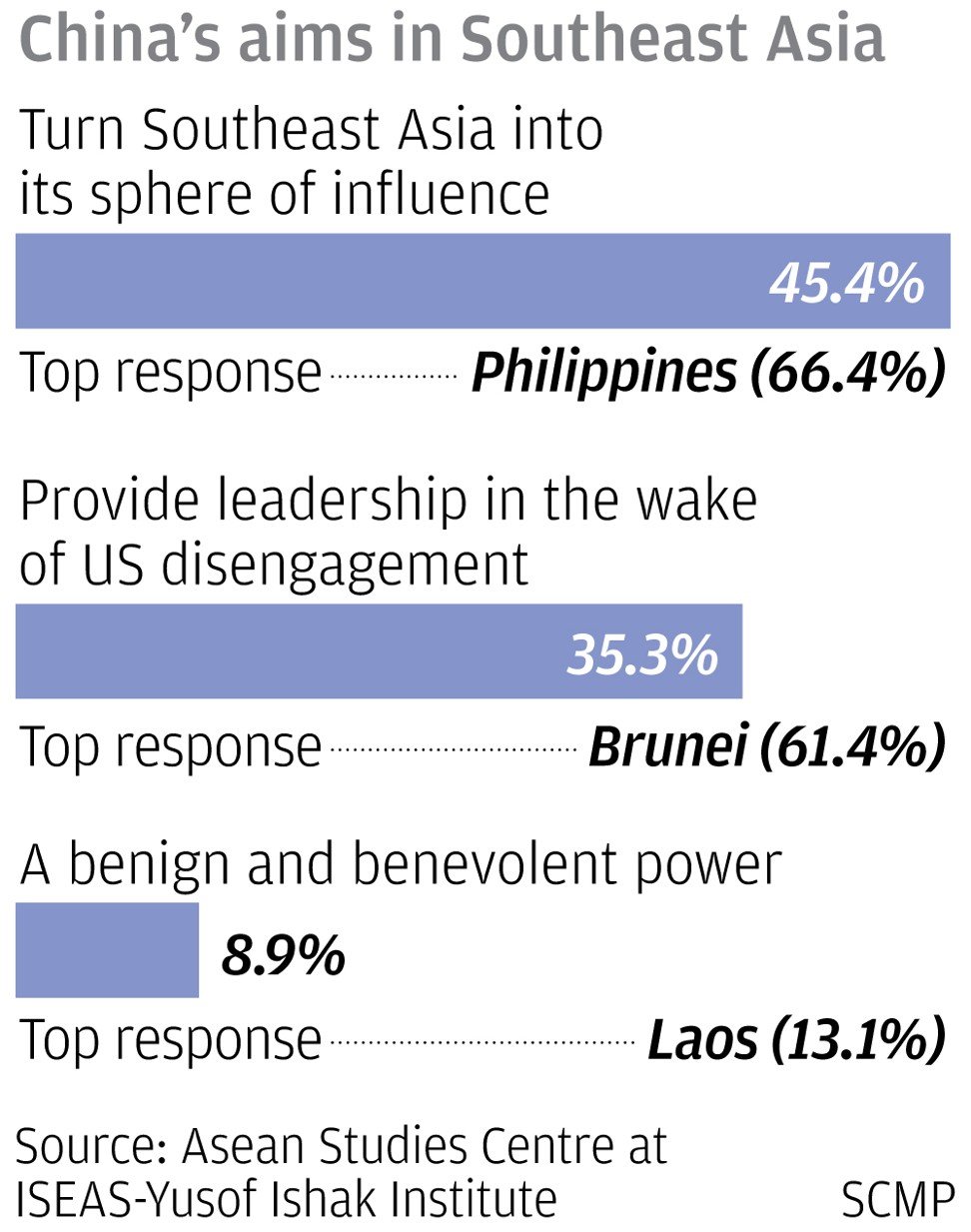 A poll of more than 1,000 Southeast Asian experts, analysts and business leaders laid bare the concerns of a region still trying to find its way amid the rise of China. SCMP GraphicsShare:
Malaysian Prime Minister Mahathir Mohamad has been the most vocal critic, instructing his government to scrap a US$20 billion rail link on the country's east coast after balking at its construction cost and the terms of its loans from Chinese banks.Sri Lanka handed over management of the Hambantota Port to China in a 99-year lease in 2017, after failing to repay loans on the US$1.5 billion project.
"The debt trap is created not because of the money from China, [but] mainly because some countries did not do a good assessment" on the financial terms and repayment requirements, said the World Bank's adviser Andrea Giuricin, also a visiting professor to the China Academy Railway Sciences.
A view of the Nam Khan river from Phou Si hill in Luang Prabang as of 2018. Photo: AlamyShare:
China's state-run construction companies have mastered some of the world's most impressive engineering and building technology, but are still lacking in project management expertise, Giuricin said.
China "lacks a good track record in management," he said. "Most of the high-speed railways in China are losing money, and the data is not transparent. For some places, you simply don't need to build the fastest railway."
For Ratsaphong, the new rail link promises closer connectivity, which will spur greater economic development in his nation, one of the poorest among the 10 economies among the Association of Southeast Asian Nations, or Asean.
"The railway will bring new developments including industrial parks, hotels and tourism business that generates income "way bigger than ticketing", said Ratsaphong, noting journey costs would be cut by 40 per cent, compared to using roads on the same route.