Hot Air Ballooning in Vang Vieng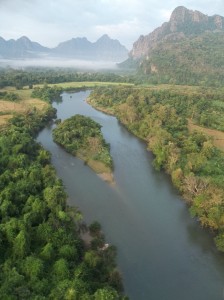 Visiting Laos was on my list for long, and I booked a tour through Laos with a local tour provider. BUT riding a balloon has always been my dream! And here in Laos, this dream unexpectedly came true one early morning in the mist of the sunrise over Vang Vieng in Laos. The day before I have already heard about the Lao hot air ballooning and together with my friends we found great interest. Screw it, let's do it was the slogan!
So, we booked, paid and were just waiting for the morning to come.
Was it really to be the place where I do my first hot air balloon cruise, really here in remote Asia, and here in this more then dramatic and amazing landscape???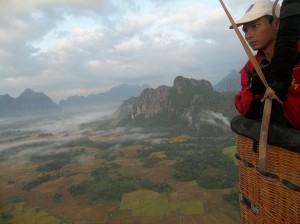 Truly, the landscape over Vang Vieng is one of the most spectacular and beautiful in Laos, if not even in the whole region of South East Asia. The limestone formations rise high out of green rice paddies, and majestic rock formations inspire each visitor, wanting them to stay longer. Vang Vieng once was known for the party town of Laos, which has recently changed within a few weeks only. The parties have gone, and nature can be enjoyed in plain spotlessness.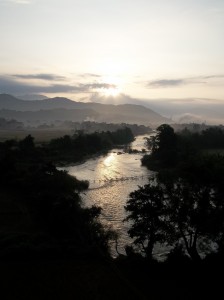 At 06.00 A.M. the alarm went off and we prepared for the early morning highlight, high in the air. We got picked up and introduced to what is about to happen. Following the guide and driver to the starting point of the hot air balloon.
We saw the balloon coming and landing on the tiniest road you can imagine. A crew helped to prepare for the next adventure, our very own flying adventure. We were bundled into the basket with about 6 persons. The pilot looked over and above him, starting the fire. The crew was holding on to the basket until we had enough pull to lift the thing up into the sky in a surprisingly quick manner.
Don't forget a cap!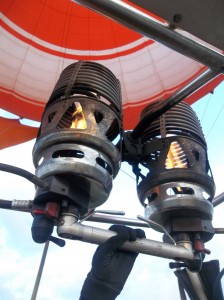 The heat over your head is simply brutal, and I didn't know about it…the burner almost feels like taking off some of your hair! Every time we had to get more heat inside, I could feel the brutal heat of the gas being blown into the balloon on this already warming morning. Now, just a few seconds after we took off, we certainly realized the beauty of being airborne.
It's hard to describe the feeling while you enjoy the views over rice fields, little grass roof huts, the Nam Song river below us and simply gorgeous mountain views around Vang Vieng in the misty distance.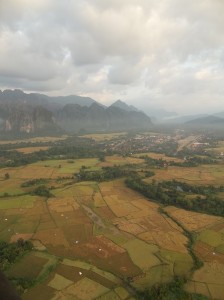 As we drifted through the air, the rugged and sharp karst limestone peaks made us wonder how they were actually created by nature and why there would not be more of them in Laos… (we should have another Blog post about this soon)
The balloon was going up and down a few times and we even tipped a few trees while we were gliding over the river landscape with farmers and Lao fishermen and their families below waving their Sabaideeeees to us.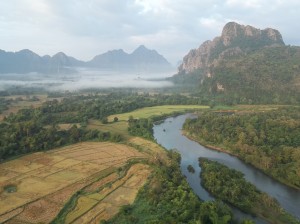 With the little wind speed we had this morning we were going South, towards a great cluster of mountains and we all started wondering where we were supposed to land. Not seeing a road, nor a proper wide field with access, the pilot pointed out a village a few kilometers in front of us. I have to admit, that a bit of worry came along for a few moments thinking about where we would actually hit ground.
But communication was ongoing over the radio and all in the sudden we saw the same support team racing towards us on a dust road,…and a school yard opening below us… The school was our place to land. And with the right feel and skill of our pilot we finally made a safe and smooth landing, on the school yard.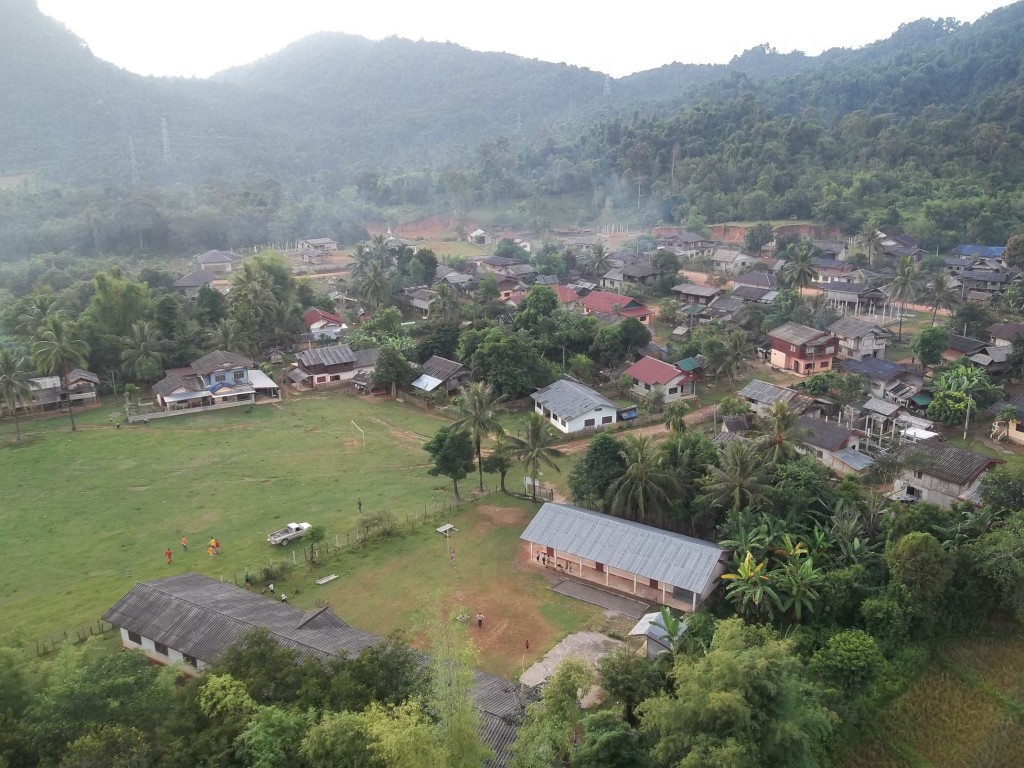 This article has been provided by Tiger Trail, known for alternative & adventure tours in Laos with a focus on sustainable tourism, offering a personalized travel experience in Laos!