Japan Still Beating China in Southeast Asia Infrastructure Race
Source: Bloomberg
China may steal all the headlines when it comes to its infrastructure push across Southeast Asia, but data from BMI Research shows Japan is still well ahead in funding projects in the region.
As Japan's population ages, the government and companies are searching for new markets overseas. Japan dominates infrastructure investment in the Philippines and Vietnam, among the world's fastest-growing economies. But China is ramping up competition with a sweeping push in nations along the route of President Xi Jinping's signature Belt and Road Initiative.
"While Japanese companies and government agencies have had a long head start, Chinese companies have key advantages that could see them overtaking Japan in specific sectors," Christian Zhang, an infrastructure analyst at BMI Research in Singapore, said in an email this week. He cited financing of coal-fired power plants as multinational banks and development agencies increasingly restrict lending for coal projects.
Asia's two biggest economies are jostling to expand influence in the region, one of the world's brightest economic spots and home to half a billion people. Governments from glitzy Singapore to communist Vietnam are building airports, tollways and mass rapid transit to attract investment and create jobs.
Infrastructure is increasingly among the region's main growth engines. Indonesia boasts a pipeline of over 250 projects, while the Philippines plans to spend $180 billion on rails, roads and airports. Singapore is doubling the size of its mass transit system.
To reduce strain on government budgets, countries are turning to their richer neighbors, who are only too willing to strike deals.
The following charts show where the region is in its infrastructure push:
Japan's infrastructure investment since the 2000s — both completed and ongoing — totaled about $230  billion, while that of China reached about $155 billion, according to BMI. More than 90 percent of the projects have actual or planned construction dates after 2013.
Here are the number of projects per country: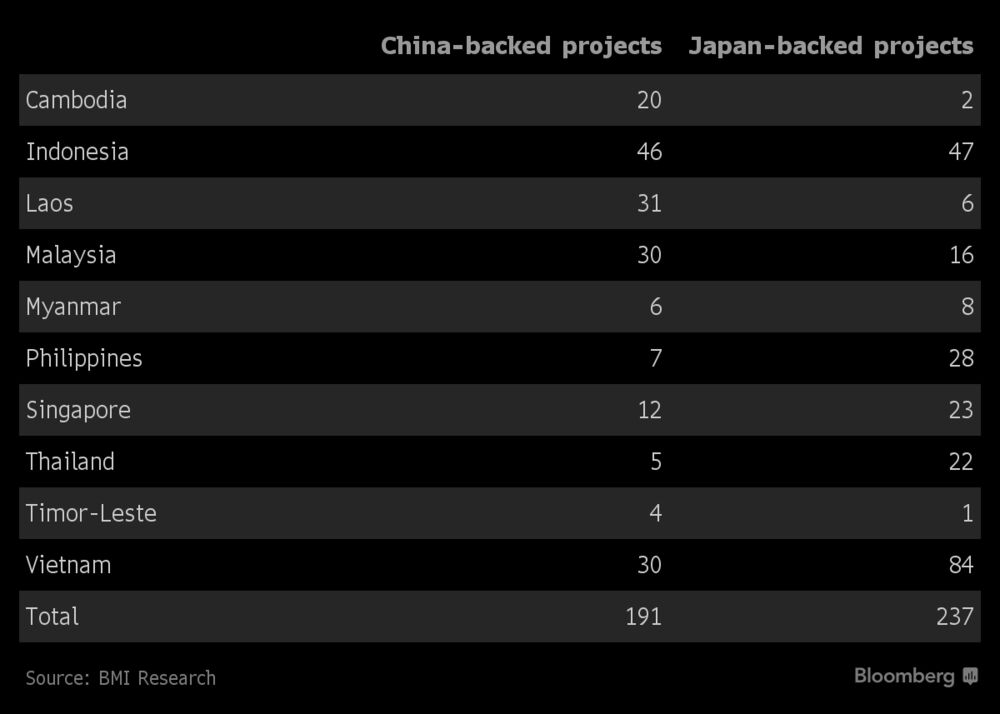 These are some of the major projects:
China-backed projects
| Country | Name | Value |
| --- | --- | --- |
| Indonesia | Kayan River Hydropower Project, North Kalimantan | $17.8 billion |
| Malaysia | East Coast Rail Link, Kuala Lumpur-Tumpat | $12.7 billion |
| Malaysia | Melaka Gateway Project, Melaka | $9.9 billion |
 Japan-backed projects
| Country | Name | Value |
| --- | --- | --- |
| Philippines | Makati-Pasay-Taguig Mass Transit System, Metro Manila | $8 billion |
| Indonesia | Train III Project, Tangguh LNG Facility, Special Region of West Papua | $8 billion |
| Vietnam | Long Thanh International Airport Project, Phase 1, Dong Nai Province | $5.2 billion |
The race is far from over. Government finances aren't strong enough to fund all the projects, HSBC Holdings Plc said, and China can catch up. Beijing sealing a series of infrastructure deals under its Belt and Road Initiative in the past two years is a good sign.
 
J&C Services, an independent insurance broker and a Top Gold agent of Toko Assurance in Laos, is offering customer-specific solutions to our clients, while providing at the same time the most competitive premiums.
Try us and be surprised how much we differ if compared to other providers !
www.jclao.com / info@jclao.com / 020 77 100 200