Major Thai Agencies Predicting Repeat of Bangkok's "2011 Great Flood" – City Will Disappear Altogether By 2100 Unless Govt Acts
Source: Aseannow
Some of the direst warnings in more than a decade have been issued from two major Thai sources regarding severe flooding this year in Bangkok, the Thai capital.
The warnings are not from some conspiracy theorists; they emanate from Professor Seri Supharathit director of the Center for Climate Change and Disaster at Rangsit University and the National Disaster Prevention and Mitigation Committee.
Expected rain over the next three months will be heavier and longer lasting than normal, likely heralding the worst deluges in 100 years.
This will result in a different form of flooding to the Great Flood of 2011 but no less disastrous for the Thai capital that is responsible for 40% of Thailand's GDP.
The organisations went further. They said that the Thai government needs to act now to follow other countries' leads in erecting sea walls and barriers over the next 30 years.
And not just minor defences – major work.

Prof Seri said one is needed to be erected from Pattaya to Cha-Am. This would create a massive fresh water lake in the Gulf of Thailand changing industries and tourism for ever.
Without such drastic and foresightful action Bangkok will simply disappear from the world map as predicted by world climate change bodies.
The alternative to action is moving the capital elsewhere.
Prof Seri said that a large amount of rain and at least 2-3 major storm weather events are predicted for September to November.
These will dump huge amounts of water on the central region and with the Pasak Dam already full the water will have to go somewhere.
And that is towards Bangkok. But he said that though there is a high likelihood of another great flood to match the devastation caused in 2011 the flooding will be different, reported Naew Na.
In that year, ASEAN NOW notes, the northern suburbs of Bangkok like Don Muang saw the flooding begin in October.
The skies above the city were clear and there was almost no rainfall at the time. the rainy season was over.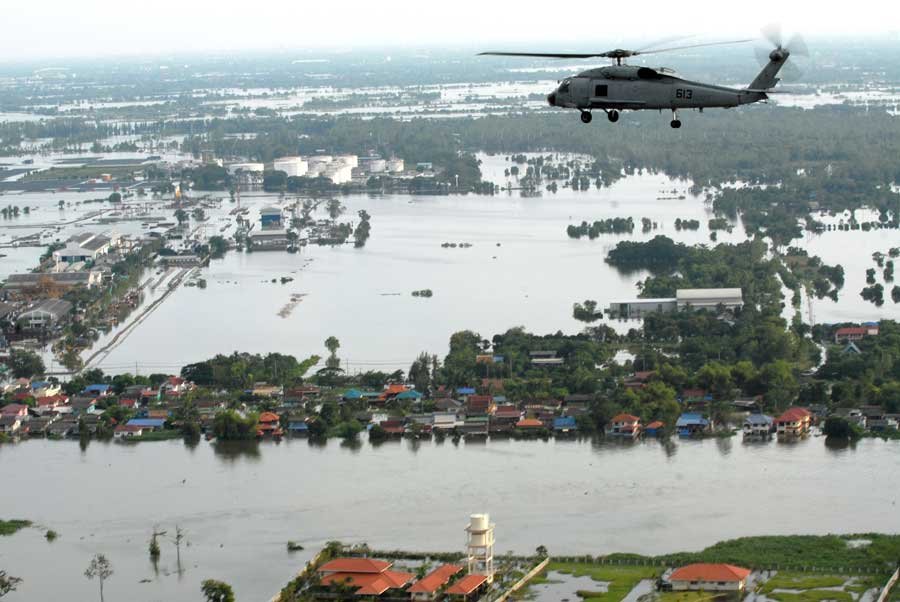 File photo. Credit: Wikipedia
The water came as runoff from the north where heavier than usual rain earlier spelled disaster for Bangkok as gates were opened and the suburbs were sacrificed for the sake of the central business area of the city.
The water came not from overhead but gurgling up from the drains. Within hours and days it rose and rose until kayaks and boats were the only way to get around Don Muang, for example.
In November of that year more inner suburbs like Chatuchak started flooding in the same manner. From the ground up.
Within a day the entire area of Ratchayothin was under 50-70 centimeters of water. It was eerily quite and the weather was beautiful.
But you needed a boat or wading in deep filthy water just to get to the end of your soi where the main roads were equally inundated and some city buses were the only means of transport.
In Bangkok's surrounding areas like Pathum Thani great swathes of land were under three meters of water throughout the last three months of 2011.
Huge damage was done to properties and motor vehicles, many of which were parked in inner Bangkok condos or on expressways for months.
Schools closed or moved sites. Literally millions had to stop working.
Prof Seri said this year would be different caused more directly by rain in the Central Region. Exactly how much and of what duration remains to be seen but the portents from countries and cities already flooded are dire.
The liklihood of a repeat of 2011 albeit under differing curcumstances is "highly probable".
He said it is time for new bangkok governor Chadchart Sittipunt to tell the public the facts about where and when low lying areas are likely to be under a meter of water.
He said this was not scaremongering and would not cause panic. The city's residents will well remember 2011 that was a PR disaster though lack of warnings and political bickering.
The public need to be told straight by politicians what they might expect in the coming months.
Two to three major storms are expected to hit with what has happened in Seoul in South Korea and other cities providing ample warning for Thailand.
Seri harped back to the 1980s when Gen Chamlong Srimuang was governor of Bangkok and the city experienced its worst flooding in 100 years.
(In fact in May 1986 there was some of the worst flooding after the biggest seven hour deluge in recorded history).
These events can now be linked to climate change.
Seri said that Bangkok in 2022 has a high likelihood of a "worst in 100 years flooding event" like in Chamlong's era.
He said that the government has failed to issue proper guidelines and is being slow to act.
This can be seen against the current political shenanigans whereby politicians seem more concerned about themselves and their futures rather than the potential plight of the people in and around Bangkok.
There are few viable measures in place with the government still thinking about farmer's protests that took place in Ayutthaya, Pathum Thani and Suphanburi in 2021 regarding the opening of floodgates.
Seri expressed concern that the rice harvest in the Chao Praya basin might not be collected in time as flooding of the fields may make this impossible.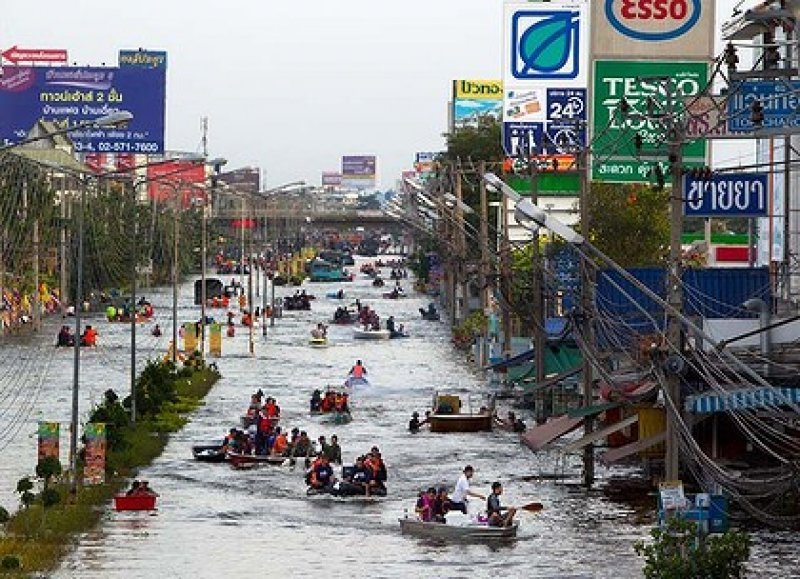 File photo
He called on the government to act now and not wait a moment longer.
Not just for this year's potential for disaster but for the next eighty years.
He pointed to to warnings from the International Committee on Climate Change that said without action Bangkok will be 100% under water by 2100.
Global warming has placed the city on "Code Red".
The Thai goverment can decide to move the capital or act to save it.
If decisions are made now then they have thirty years to enact measures.
The goverment needs to accept what has been done for decades in places with more forward thinking and planning – like the Netherlands, Japan, South Korea and Singapore.
Decisive action needs to be made on sea defences and walls.
He said that a giant defensive wall from Pattaya in Chonburi to Cha-Am in Phetchaburi needs to be constructed to save Bangkok.
This will ultimately create a huge freshwater basin that will change economic activity for ever.
Sea fishermen will have to change their industries and the whole area will need to be developed for a different form of tourism.
Such far reaching ideas are necessary or great swathes of lowland areas will slip under the waves, as has already started.
ASEAN NOW suggests that Thailand's authorities have a very poor track record in heeding warning from its own scientists let alone foreigners.
Back in 2011 the Dutch offered their expertise in the building of defences but were largely ignored by the Thais who preferred to save face over saving their own nation.