Top 10 Coffee Spots In Luang Prabang
Coffee has been a staple of Laos ever since it was introduced by French colonialists in the early twentieth century. Coffee is currently the largest agricultural export commodity, and the Bolaven Plateau is one of the most fertile regions to grow coffee. In Lao, coffee is pronounced "khaafeh" (similar to how you would say café). If you want real Lao coffee, you must order "khaafeh Lao". Though there are many different words here you could use to order coffee. Nonetheless, the Lao version of coffee should not be missed by anyone stopping over into Laos.
At first I was considering using a rating system in order to categorize different coffee spots in Laos, but I felt that it did not give enough justice to some of the more local places I visited. This list is thus ordered based on my own personal experience in each café. I also put a heavy emphasis on the type of atmosphere and the taste of the coffee as well. I love coffee so much that I have written this entire post on the top 10 coffee spots with a cup of coffee sitting next to me.
---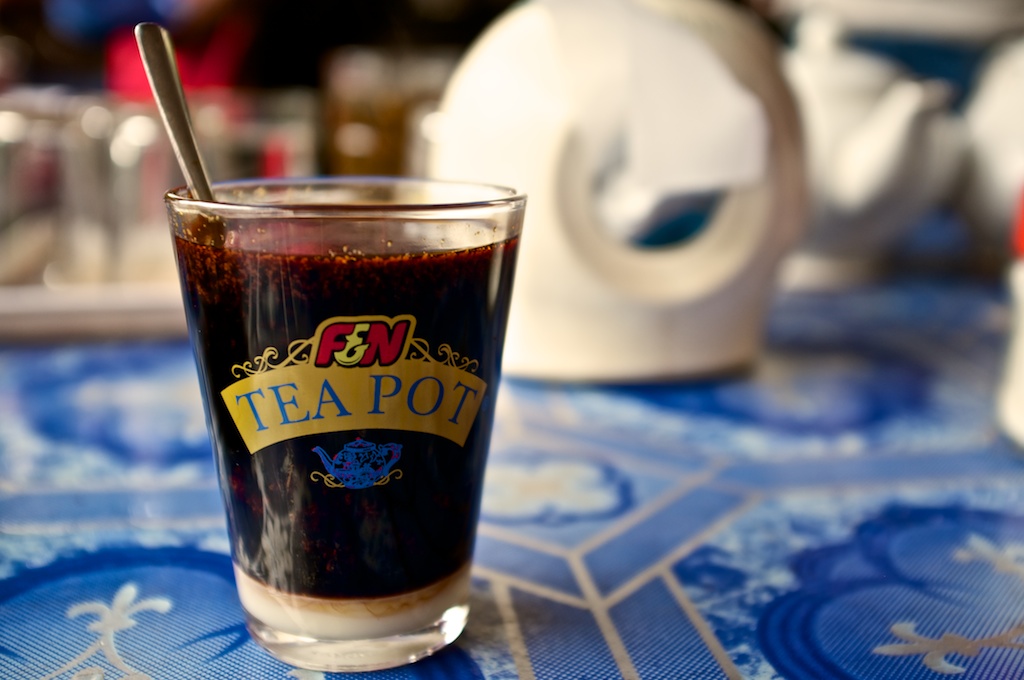 1. Pasaneyom Coffee Shop
You just have to try this local place. After all, you are coming to Laos to experience Lao culture right? This is one of the most local and authentic places to sit down for a cup of joe. You might even strike up a chat with a fellow Lao next to you while you relax in the early hours of the morning (see my earlier post here). Pasaneyom Coffee shop is not a place where you would sit with a laptop or even casually read the newspaper, but it is an experience in and of itself.
---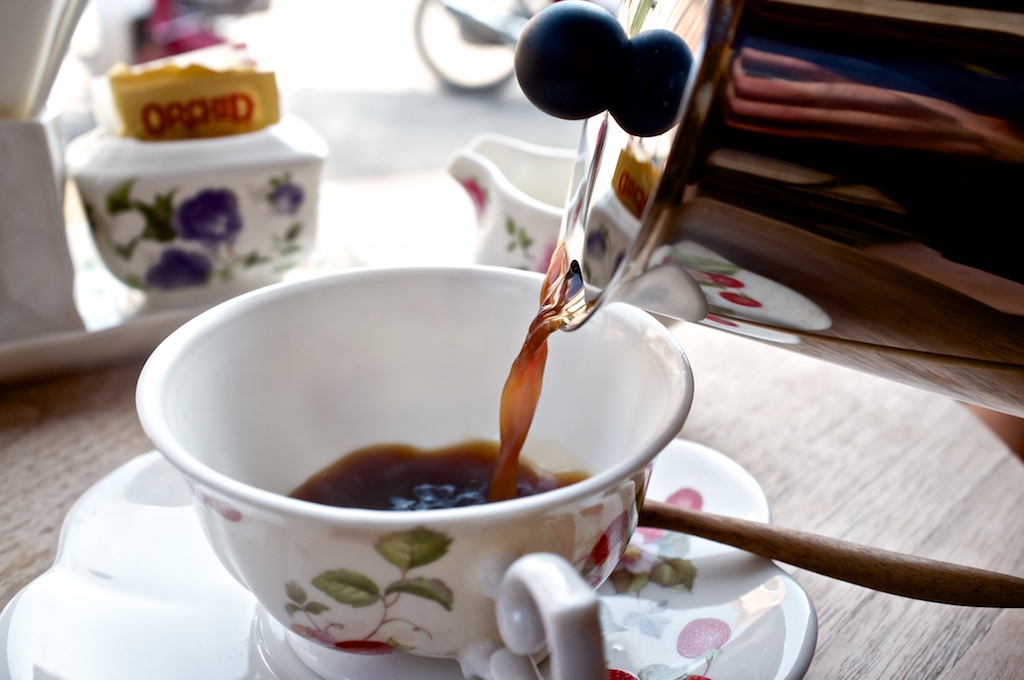 2. Café de Laos (at the Chang Inn)
From the moment I approached this cafe, I knew I was in for a serious treat. Though if their prices written in dollars (and not kip) on their menu indicated anything, it is that Café de Laos is not the type of place that would suite budget travelers. If you are a coffee connoisseur, however, then this is one of the few places in Laos where coffee is taken very seriously. Sitting right off the main road next to Wat Sen, you may notice a row of french presses and espresso pots that line their counter. In my opinion, Café de Laos serves up the best tasting coffee of Luang Prabang. This is because they source their coffee beans only from various regions in Laos. When ordering your coffee, you get to choose from a selection of 12 different locally grown beans. These beans are then freshly ground for either a french press (pictured above) or a syphon brew. I didn't think that coffee could taste so good here in Luang Prabang, but I was dead wrong. Café de Laos not only has a very cozy atmosphere, but I believe that the coffee is well worth the price.
---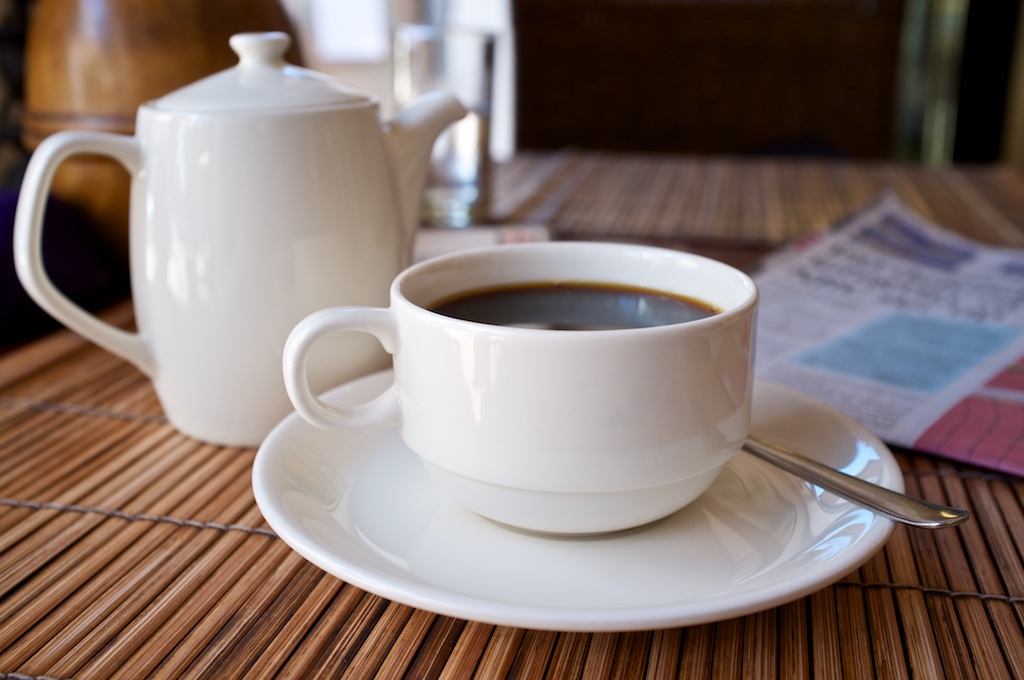 3. Le Café Ban Vat Sene
This is a very colonial-style café just off of the main Sisavangvong Road. With a connection to the upscale L'Elephant restaurant merely two blocks away, it definitely has more of a classier feel than the cafés I have previously been to. I was surprised to find that for only 9,000 kip, you get Coffee Lao served in a nice pot, equaling about two cups of coffee. I also ordered a freshly baked baguette, since it only costed 6,000 kip (not including butter or jam for an additional 6,500 kip each). There are up-to-date newspapers here from Vientiane, Bangkok, and even France (the Le Monde)! I felt like I was in heaven with a nice steaming pot of Lao coffee, a warm baguette, and the newspaper all in front of me. This also would be a great place to bring along your laptop to get some work done. However I preferred to enjoy this beautiful Sunday not behind a screen, but instead watching the world go by.
---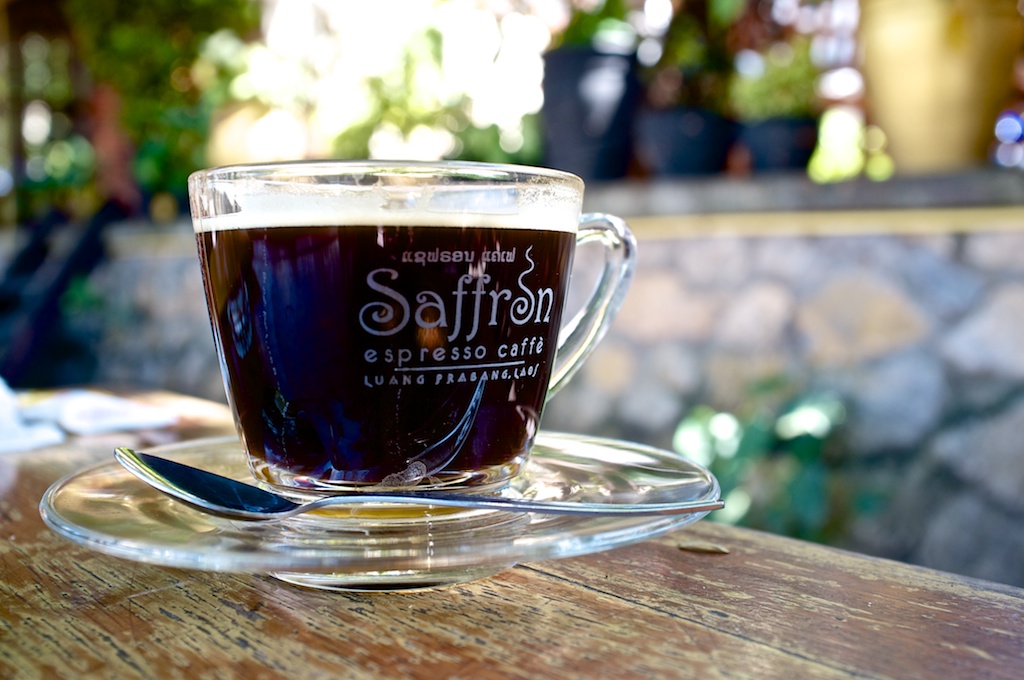 4. Saffron
The story of Saffron Coffee is an uplifting one that deserves to be shared. The Hmong, Khamu, and Yao (Mien) who lived up in the high lands were unable to grow typical crops like the rest of Lao. They turned to opium as a way to earn income until the government banned this practice, having to then resort to slash and burn agriculture. A researcher realized that these mountainous areas would be perfect for coffee cultivation, and then Saffron was born. Saffron says that it always buys the entire amount of coffee cultivated from these ethnic minorities in order to provide them with income. As for my espresso and americano, it had a very rich and bold flavor that I thoroughly enjoyed. I would suggest taking home a bag (87,0000 kip) of their organic coffee due to their story alone. My only gripe is that there are no newspapers to read and they do not have many couches or comfortable chairs to sit on. I would also recommend coming to their location on the Mekong rather than the location near the night market.
---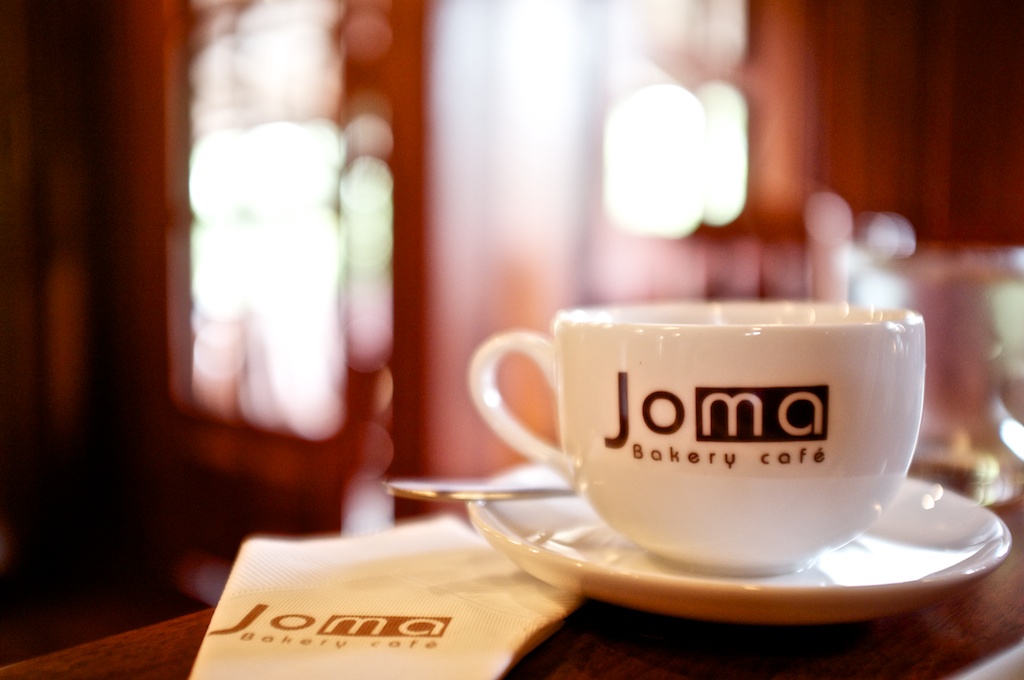 5. Joma
If you are a tourist, you would be hard pressed not to stop in at least one of the two Joma Coffee shops set up around town. I have to admit that I come here a little too often, but it is a great way to cool off with air-conditioning, a reasonably priced cup of coffee, and the daily Bangkok Post or Vientiane Times paper within reach. The internet, however, is fairly intermittent. I would not advise coming here and expecting stellar performance on their wifi network. My last few visits here had me walking out in anger as I could not even connect to their wifi. Joma's coffee is decent, but not quite as flavorful as other places around town. My favorite part of Joma is that they sometimes have a plate sitting out of day-old pastries that are 50% off.  That's a pretty good steal for an expat living here on a budget.
---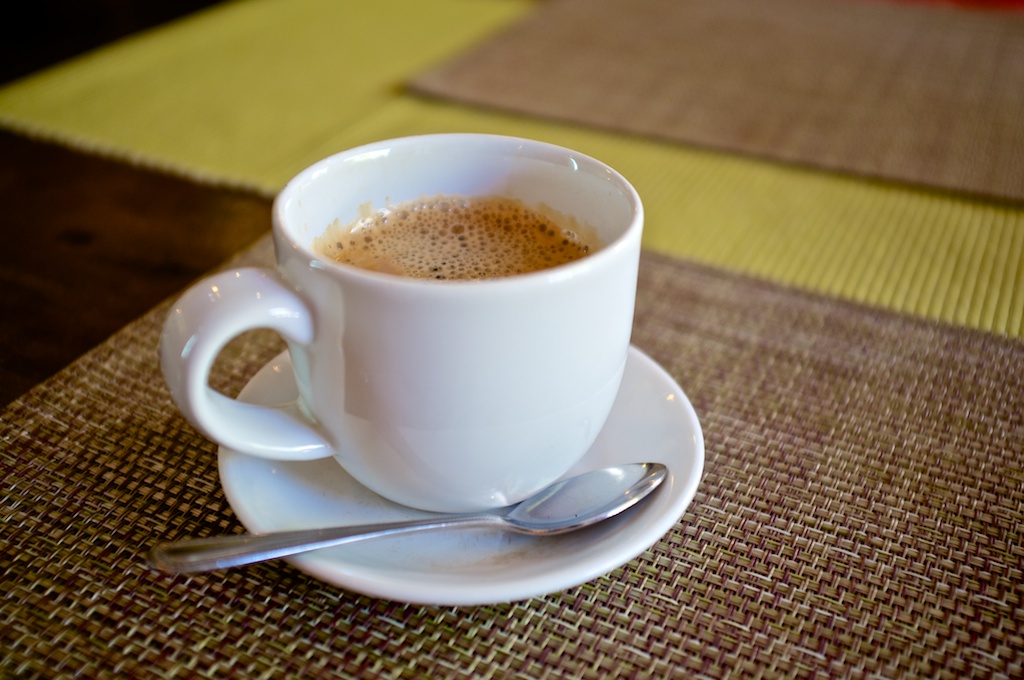 6. Le Banneton Café (aka the French Bakery)
Near the end of the peninsula on the main road, Le Banneton Cafe sits quietly across from Wat Sop. It is known as the 'French Bakery' since it sells many baked goods that can be ordered to go. There is almost zero traffic in this area of town, so it is truly a stress-free place to enjoy a good cup of coffee in the morning. The way the menu is written makes this cafe truly French as there are English translations of French menu items printed much smaller and off to the side. I decided on a Coffee Noir (black coffee), and a baguette with butter and jam. The coffee is reasonably priced (10,000 kip for a small), and they give you the coffee with a lot of crema on top. (Crema is a brownish foam usually on top of espressos. It definitely adds to the taste!) However I was sad to find out that they offered no wifi and no newspapers to read. They do have a stack of Western magazines, but I am not a big fan of reading tabloids. I would recommend coming here with someone else to enjoy a meal together, but not to come with your laptop and expect to get some work done.
---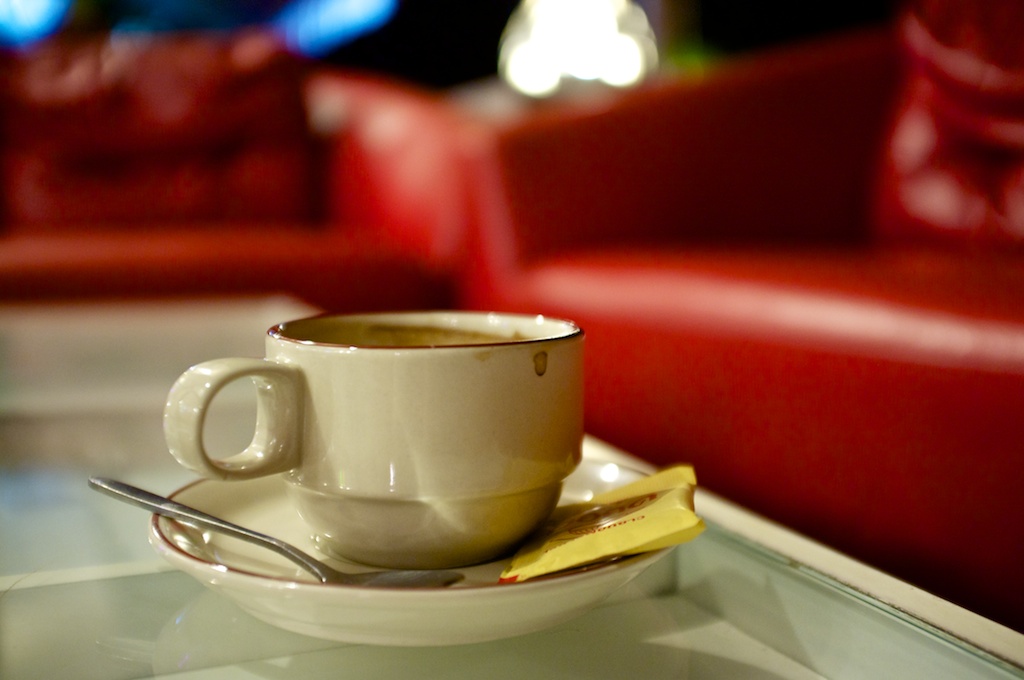 7. 96 Coffee
96 Coffee is somewhat of an oddity as it is located out from the central area of Luang Prabang, but this should not discourage you from coming here. 96 Coffee is also apart of the Luang Prabang Inn hotel just located a few meters away. Their coffee is not the cheapest in Luang Prabang, but the atmosphere is comfortable enough to spend a few hours here in peace. Their interior has a free computer to use the internet, a few leather couches, and comfortable outdoor seating to enjoy your cup of joe. 96 Coffee stays open until 9:00pm, which is actually late by certain standards here in Luang Prabang. Their internet is also fairly reliable, and they have plenty of Vientiane papers here to keep you updated with all things related to Laos. Their americano actually packs more flavor than the usual cup I have ordered at Joma.
---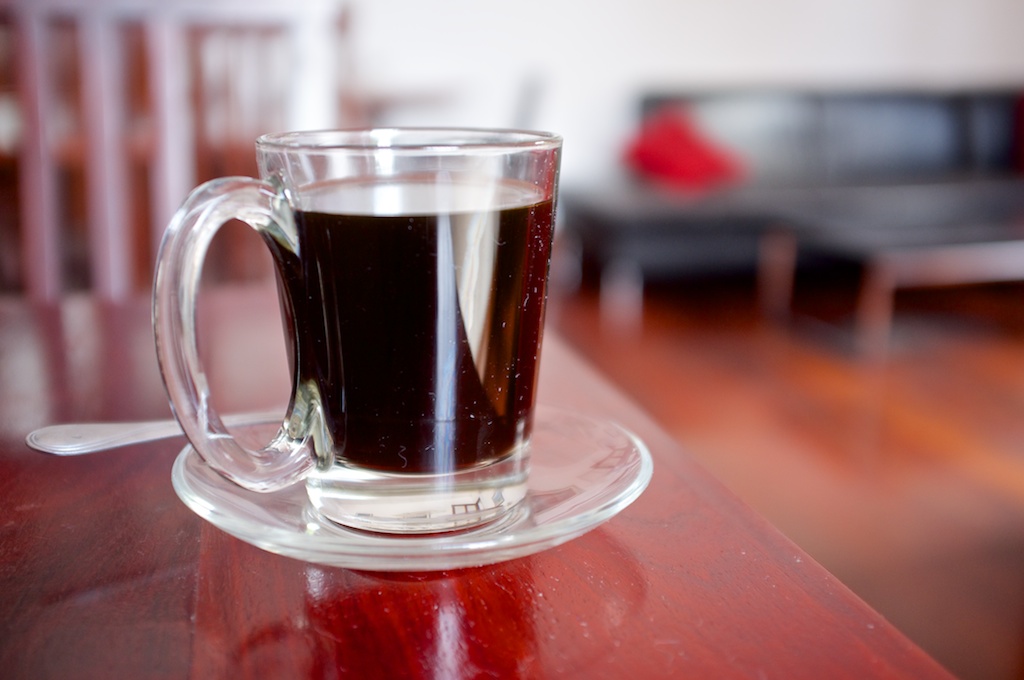 8. Pilgrim's Cafe
Pilgrim's Cafe is an old favorite that I cannot help but returning to time and time again. This post, however, may be a little biased since our Tiger Trail office is located right next door. I think most of my paycheck ends up going into the hands of the workers here. Nevertheless, Pilgrim's Cafe serves up a delicious 'bottomless' cup of brewed coffee (only 12,000 kip) and has a very fast and reliable internet connection. They also have an amazing deal for breakfast: French toast and coffee for only 16,000 kip. This is definitely a steal. Their bottomless coffee is equally as dangerous because I can drink 3 or more cups a day! The staff here is also very friendly, and they have a great selection of Western dishes to choose from.
---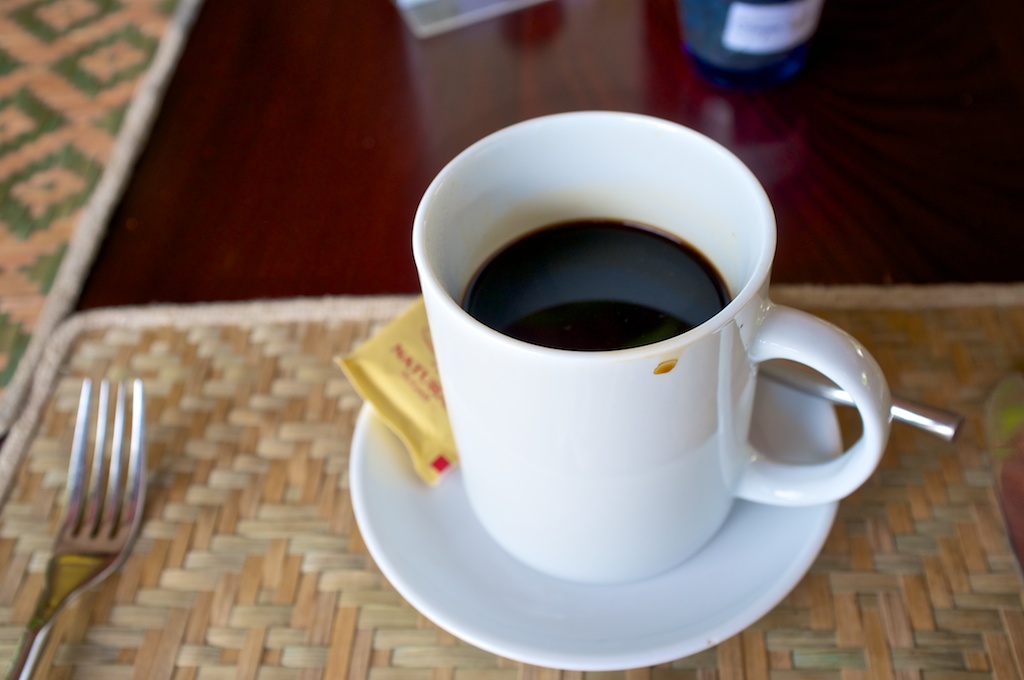 9. Silk Road Cafe
The Silk Road Cafe has been featured heavily in the past few blog posts I have written, but it is equally a great place to come for a quiet coffee by the Mekong river. You can also stop by for a free tour of their silk process, take a silk dyeing class, eat an amazing brunch, or come here for a Lao lunch with a western twist! They have newspapers that seem to be stocked daily, and their wifi is great as well. The only downside to the Silk Road Cafe is that they do not stay open to serve dinner at all, so the cafe closes earlier than other spots here in Luang Prabang. It is also somewhat farther away from the city center than the other cafes reviewed in this post, but that should not discourage you from coming here and trying what Ock Pop Tok's Silk Road Cafe has to offer.
---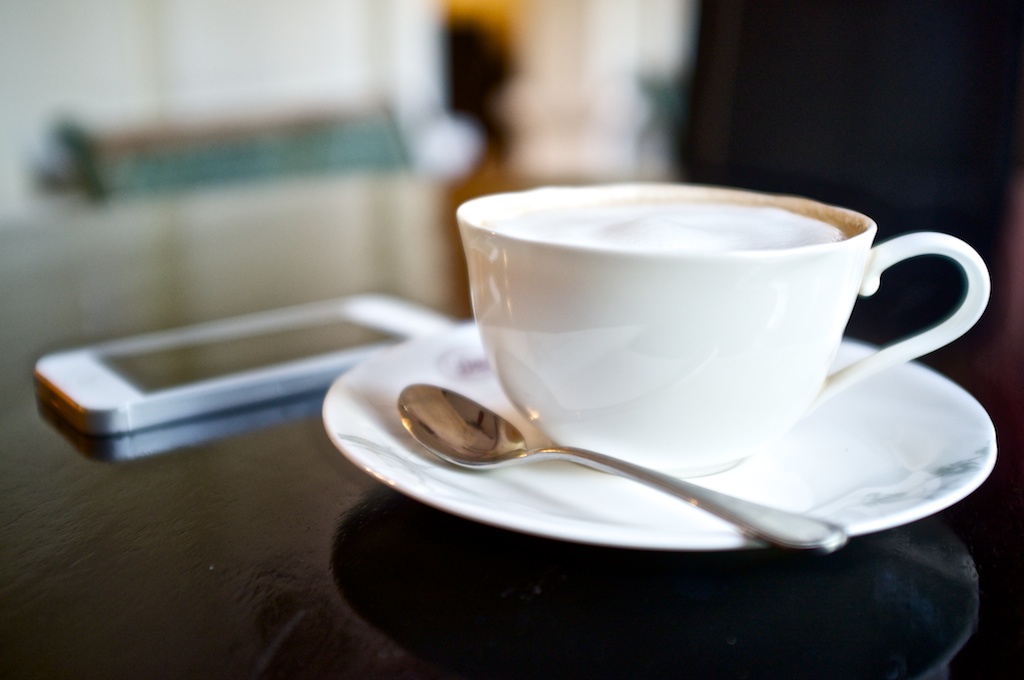 10. Dao Coffee
Located right next to Amantaka, it is no surprise that this place has their interior decorated like a 5-star hotel lobby. When I first walked in I felt a little underdressed in my shorts and flip flops, but Dao Coffee is very classy. Dare I say, elegant? One unique aspect of their menu is that all their hot drinks (whether it is a cappuccino, americano, espresso, etc) are priced at 15,000 kip, and similarly 20,000 kip for almost all their cold coffee drinks. Dao Coffee's sign outside said that it closed at 6:00pm the day that I went, but I was told they were closing at 5:30pm (they must have been operating on "Lao time").  The atmosphere is very quiet, and would be great place to get some work done on a laptop as they have free wifi available too. In my opinion, their cappuccino tasted flat and almost flavorless. However I don't order cappuccinos often. If their black coffee is any good, then I may consider moving Dao Coffee up higher on the list. If nothing else, you will probably run into Dao Coffee's 3-1 instant packets sooner or later.
This article has been provided by Tiger Trail, known for alternative & adventure tours in Laos with a focus on sustainable tourism, offering a personalized travel experience in Laos!