Travel Laos With Kids; Travel Tips From The Lao Travel Specialists
Visiting Asia with children is getting more and more popular and for good reasons, as the Asian, and of course also the Lao mentality, is very child friendly. If traveling with children in Asia, you will experience numerous times that local staff will help out watching your kids or giving them attention while you try to get some food or have troubles getting around. Indeed the Asian and Lao culture seems to be very child-friendly when it comes to traveling.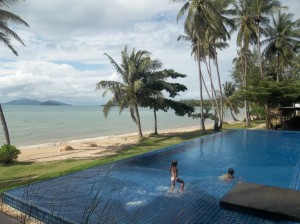 Also traveling Laos with kids may build a great number of intercultural bridges, as your kids will eventually get into verbal or non-verbal communication and playing with other children, which again, for the parents will open doors to experience the local Lao life and culture, unspoiled and very direct…
We want to clearly encourage families to travel in Laos, since we have done it numerous times and supported other families from around the globe to make their way through Laos with children in an easy and child-friendly way,…which means fun for both, the traveling kids and parents.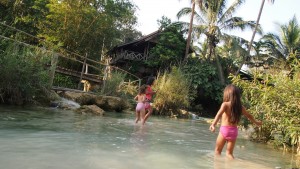 1. First overseas trip with your children
If you have little ones, plan for a slower pace than you might usually attempt and be realistic about what you can cover. The less you feel you have to pack in, the more enjoyable and stress-free the holiday – and you'll be able to take the odd day indoors if the weather is bad or the kids need to rest. If you have older kids and teenagers, pack it all in and keep them on the move, make it adventurous and challenging so they don't get bored and make sure you add in a couple of free days here and there to re-group.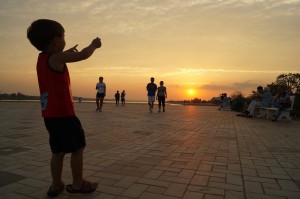 2. Travelling with another family
When travelling with another family, or other adults, before you go, discuss and level out what each person wants to do and what expectations and interests each one is following. Find an agreement in advance on how to split chores or how to take turns in watching, playing, going out with the children. Also talk about the balance of spending time together and apart. Come to an agreement about the way you split the bills when going out.
3. Travelling with serious allergies
If a family member has serious allergies, you might want them to travel with a card that specifies, in the language of your destination, what they're allergic to and how serious the condition is. Allergy & Anaphylaxis Australia has some helpful information at their website www.allergyfacts.org.au/living-with-the-risk/travel
If you're on a budget, 3-star hotels in countries like Laos are comfortable and clean, rooms come with internal bathrooms, air/con or fans, bar fridges, free bottle of water, sometimes there's coffee/tea facilities, free WIFI and TV (Asia TV can provide a good laugh). Most hotels and guesthouses include breakfast and usually are a combination of western and local food, and if you have open minded and a bit older kids, try out or even ask for the local specialties.
Also bear in mind that local hotels and simpler accommodation is a lot more flexible in the way you share/use the rooms for your family needs. E.g building up the room it fits for the small ones, for example putting beds together or adding mattresses on the floor…
You can request connecting rooms, but a lot of times smaller and cheaper hotels seem not at all able to accommodate this, so ask for rooms close by or next to each other and eventually (if you have kids not yet sleeping alone) split the crew.
Triple share rooms are ideal if you have two or three children. A lot of times they come with one big bed and smaller beds, or at least with enough space to re-arrange your room. Sometimes you can share a double bed with a little one, but check what are the hotel's terms and conditions. I always suggest getting a hotel with a pool if possible as it's a great way to have down time at the end of a sightseeing day.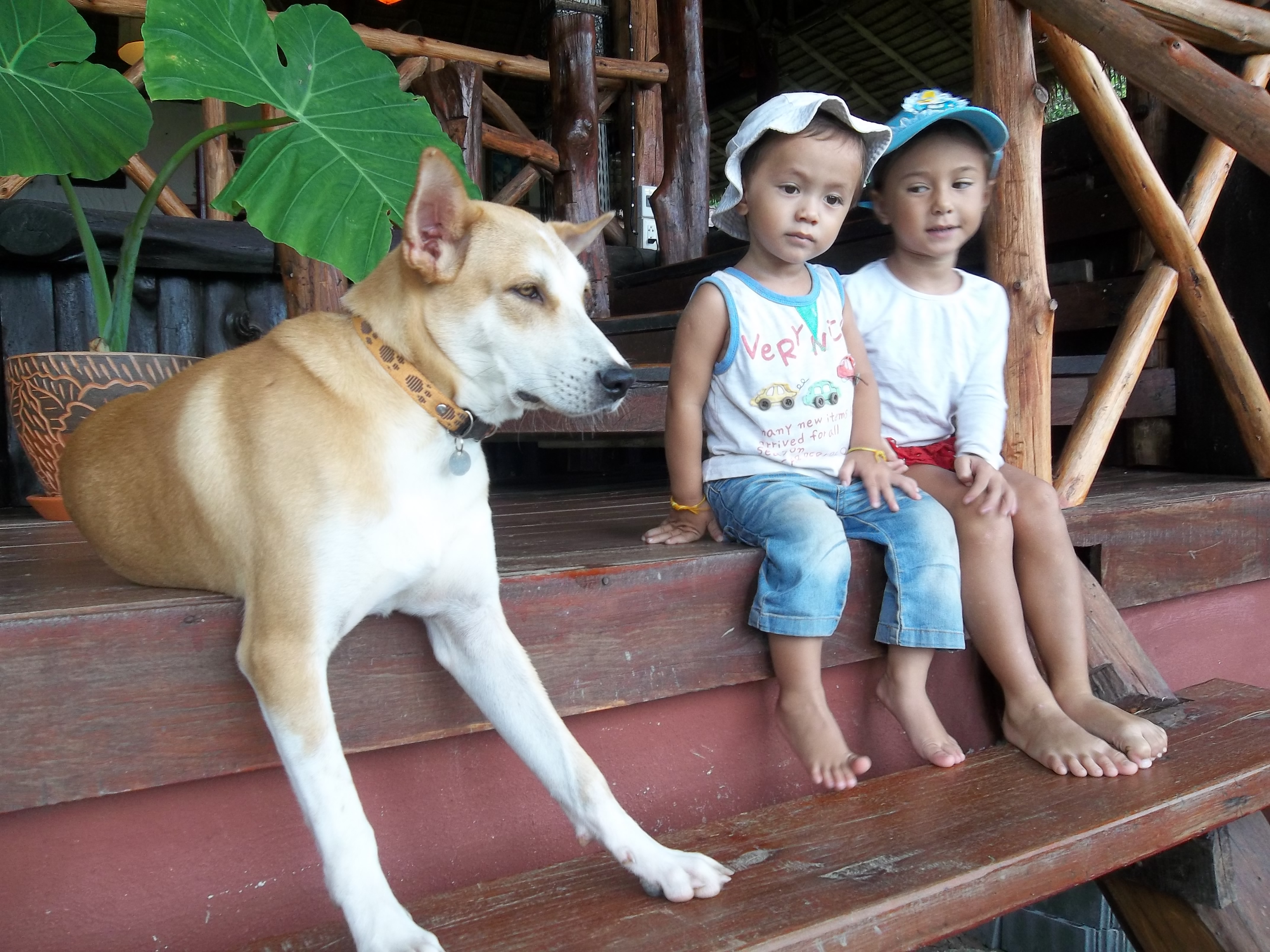 5. What about vaccinations?
It depends on what countries you visit, but see your doctor at least two months before you leave to discuss your plans. When making the appointment, mention the ages of your children and ask if they need to come to the appointment; when you go, bring everyone's vaccination records, and ask the doctor to note down their blood groups for you. If any of your children has a pre-existing medical condition, ask for help in identifying a doctor in your destination who specialises in the same condition.
6. Malaria
If you're travelling to a country in which malaria is endemic (check with your doctor and the list of affected countries at who.int/ith/en), you need specialist advice on the appropriate anti-malarial medication. You'll also need to make sure you take ample supplies of insect repellent (DEET), long sleeve shirts and pants to cover everyone up in the evenings and, if the place you're staying in doesn't have them, bed-nets dosed with insecticide.
7. Visas for Laos, Cambodia, Vietnam
Most countries in Asia require a visa and don't be surprised if they're a requirement for children as well as adults, and that their fee is the same as yours! Check first to see if you need to get the visa from the embassy in your country before departure or if you can get a visa on arrival. For Laos and Cambodia you can get a visa on arrival.
For Vietnam you can obtain a visa from the Embassy before departure, or get it along the way in a neighboring country, sometimes as easy as with a Visa service, costing a just a few dollars more. But you may also get a visa letter from your agent that you present at immigration in Vietnam for your visa stamp, if you arrange some tour or package in Vietnam. Check that the duration of your trip and the amount of times you enter the country are covered by the visa conditions.
Note: You must have at least 6 months validity on your passport.
8. What clothes to pack?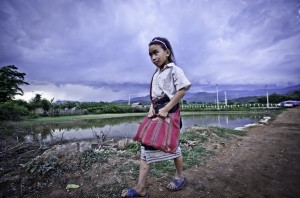 If you're heading for the heat, choose clothes made from natural fibres – sweat irritates delicate skins and can lead to prickly heat or sweat rash. Hats, sun screen, walking shoes and comfortable slip on shoes (you'll be taking shoes on and off when going to temples, pagodas, home stays etc.) are essential items. Also pack for cooler weather and rain, especially if you travel further on into the northern regions, but even in Laos and Vietnam, the winter months of November to February can get quite cool. Remember, most times you can buy locally made clothes, or even second hand clothes along the way for "very cheap".
9. Drinking Water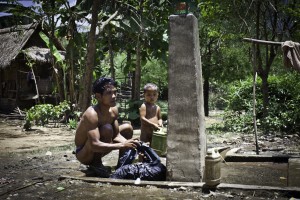 Tap water is not safe to drink in Asia. You'll need to boil, filter or sterilise your own, or buy bottled water. A really clever new method is the STERIPEN, which works without chemicals and right when and where you need it : Read more under www.steripen.com ! The Worldwide leader in Handheld, portable water purification systems using ultraviolet light to destroy waterborne microbes.
Make sure the children don't drink from taps, including when brushing teeth. Keeping a bottle of drinking water by the sink is a helpful reminder. Bring a water bottle for each member of the family. The climate can be very hot in Asia so it's important to ensure everyone drinks a lot of water to keep hydrated. It's a good idea to check your children's urine from time to time; if it's darker than usual, cloudy or strong-smelling, insist they drink more water.
Tip: Use refill bottles and most guesthouses and hotels will be easy on refilling drinking water bottles from the bigger, cheaper tanks at bars, restaurants…
10. Eating out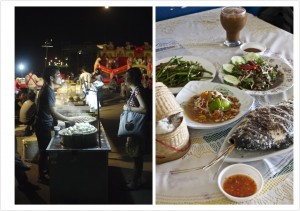 Eating out in countries with poor standards of sanitation and hygiene, always eat at busy places where the turnover of food is fast, and avoid buffets: they're notorious for harbouring the bugs that cause diarrhoea. When eating in restaurants, if the crockery or cutlery is wet, giving it a dry wipe with a clean tissue will lower any potential dose of bugs. Check that bottles and cans are unopened before handing these to the children (and use straws or clean the can or bottle before they drink), and avoid ice and salads. It's a good idea to also avoid western food as it's not traditional to the country; the local food is delicious, healthier and made from fresh produce usually bought from the markets that morning. The food is a highlight in Vietnam and Laos so research dishes that they might enjoy, and try rustling up something similar before you go or find a Vietnamese or Lao restaurant near where you live and have a night out taste testing the food.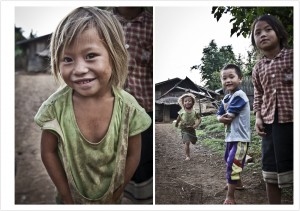 11. Get your kids involved in the planning
Ask your kids what they would like to experience on the family trip and if they like bike riding, kayaking, hiking or cooking included in the itinerary. Prepare them for the culture and language differences and learn a little about the history. Also try learning a few words eg hello and thank you (You Tube is good for this). You could also explore maps of your destination, read books and watch a film that's set there.
12. Keep life simple – plan and book ahead
Sure you may be a well seasoned traveler and have been to Asia when you were single, but travelling with a family is different. If you're planning a two to three week holiday, it pays to be well organised and to have your flights, hotels and some sightseeing tours booked in advanced so all you have to do is turn up and enjoy your trip rather than stress out trying to find hotels while keeping the kids at bay. 
As one of my clients once told me, it was just heaven getting off the plane in a new city and seeing our names on a placard and being driven straight to our hotel – no hassles, no stress.
This article has been provided by Tiger Trail, known for alternative & adventure tours in Laos with a focus on sustainable tourism, offering a personalized travel experience in Laos!