Must-Do Highlights of Luang Prabang
Source: The Sydney Morning Herald

The Street
Cutting through the centre of Luang Prabang's UNESCO World Heritage-listed Old Town is a street lined with temples, palaces, French colonial architecture, restaurants and cafes. Sisavangvong Road becomes Sakkaline Road until it intersects with Riverview Park, near the junction of the Mekong and Nam Khan Rivers. Every evening, one section that's several hundred metres long is closed off to motorists for the Night Market, where about 250 handicraft vendors sell textiles, ceramics, jewellery and artworks. See tourismluangprabang.org

The Procession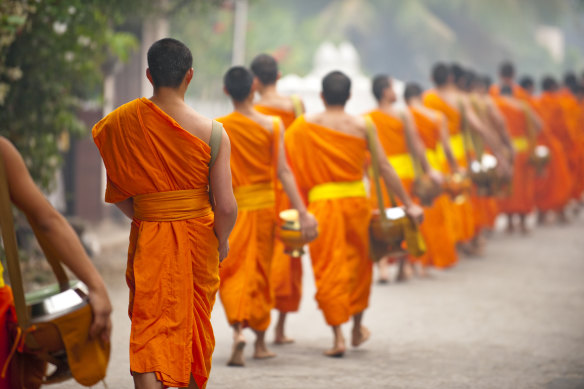 If there's only one cultural activity you decide to participate in then be sure to get up early for the Morning Alms procession that's unique to Luang Prabang. Every morning, in the pre-dawn light, dozens of Buddhist monks – young and old, and all cloaked in colourful saffron robes – fan out from temples sprinkled throughout town, mutely collecting gifts of sticky rice, sweets and cash from willing tourists and locals.

The Temple
Buddhist temples practically litter the streets of Luang Prabang; in the Old Town, they're even located side by side. Wat Pa Phai is believed to be one of the oldest, while some argue Wat Xiengthong is the prettiest in Laos. Crowning Phoussi Hill, following a climb of 328 steps, is Wat Chomsi, from which you can gain sweeping, elevated views over the city towards the Mekong River. It's particularly popular around sunset. Since it is a sacred religious site, visitors are required to dress conservatively.

The Dessert
In 2017, an Aussie couple founded Laos' first (and only) buffalo dairy just outside Luang Prabang. Using a business model that helps to boost the bank accounts of local farmers, the dairy produces cheeses, yoghurts and ice-cream onsite. The ice-cream has become such a favourite with visitors to the area – it's a popular stopover enroute to or from Kuang Si Falls – that a dedicated canteen serving scoops by the cup has been set up by the roadside, out the front of the farm. Try the tangy tamarind flavour. See laosbuffalodairy.com


The Waterfall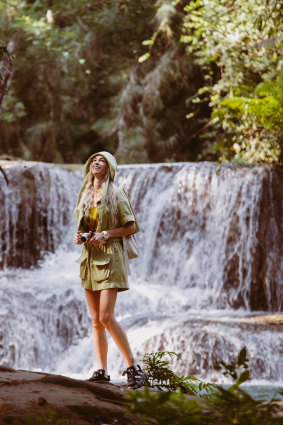 Kuang Si Falls isn't strictly a single waterfall, but a series of tiered cascades, south-west of Luang Prabang. A 30-minute drive out of town, the waterfalls reward visitors with the chance to swim in postcard-perfect turquoise pools surrounded by jungled vegetation and crowned by a thundering 60- metre drop. There's also a rescue centre for rare Asiatic black bears.
The river cruise
Drift down to Pak Ou Cave, motor up to Kuang Si Falls or idly watch the river life on a Sunset Cruise while you sip on sparkling whites and enjoy sumptuous meals delivered to your table. Riverboats feature suspended lounges, plush daybeds, air-conditioned rooms and well-stocked bars. Multi-day cruises to the Golden Triangle are also possible. See mekongkingdoms.com

The Beer
There's a beer, made under licence by Danish brewer Carlsberg, that's found only in Luang Prabang, and it's imaginatively called… Luang Prabang. You won't even find this crisp, easy-drinking lager in the capital, Vientiane.

The Riverside Cafe
Order the best coffee in town at Saffron Coffee. Arabica beans are grown, harvested, processed and sorted by local farmers as a social enterprise under a 'profit-for-purpose' arrangement. Try a tamarind apple tart on the side.

One more thing
Before December 2021, it would take at least six hours to travel between Vientiane and Luang Prabang by bus. Travelling at speeds of up to 160 km/h, the Laos-China Railway now cuts that commute down to less than two hours. Eventually, travellers will be able to continue onto Kunming in China's Yunnan Province, or south as far as Singapore.