Warriors' Star Shaun Johnson's Family Return To Laos
Source: NZHerarld
The Warriors star returned to his roots, and took a documentary crew along for the ride.
It wasn't long after landing at Laos' Vientiane airport that Shaun Johnson realised he'd come home.
The Warriors star travelled to the Southeast Asian country in December with his three brothers Topo, Adam and Joe, his dad Paul and his mum, Say, for a family holiday that turned into an exploration, a reunion and a homecoming.
Johnson's mum Say is Laotian but fled her home country in 1980 with oldest son Topo, searching for a better life for her family. The Johnson boys were raised as typical Kiwi kids, knowing little about their Laos heritage.
Travelling there for the first time in December, the family reunion started before the Johnsons had even set foot outside.
"Walking through the airport, mum was pointing people out like, 'That's your cousin', and 'you just met your Aunty'.
It was all happening," Johnson says.
It was a warm welcome that set the tone for the rest of the Johnsons' trip.
Viewers can follow the family holiday in new documentary Shaun Johnson: Across the Mekong, premiering tomorrow on Sky Sport — a project the 26-year-old says happened "unexpectedly".
"I think it's a natural thing as you get older where you want to understand a little bit more about who you are," he said, speaking exclusively to Sunday Travel. "A big part of who we are is my mum, and my mum's side.
"When we put the idea together of going back and visiting Laos for the first time as a family, we thought it would be quite cool if we could have some footage to look back on and treasure forever as a family.
"We weren't too sure how it was going to come out or what to expect from it, so sitting here now and looking back on everything we did when we were in Laos, how it all unfolded, it's turned into something we consider to be pretty cool."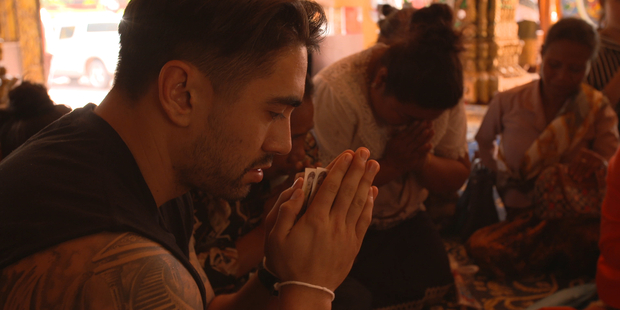 At times emotional, often heartwarming and humorous, the documentary follows the family as they experience Laos for the first time. Johnson says his first impressions of Vientiane after leaving the airport were "initially very rough".
"It's still got broken roads but we were thinking, yeah, this is ok. We thought it was going to be worse. But as soon as you get out of that city, it's very third world and a very minimalistic way of living.
"But the one thing I will say is they love it that way. They don't know any other way, they're just happy with life and what they've got."
This attitude was apparent in the family Johnson met. He says there was no awkwardness among the down-to-earth aunties, uncles and cousins, right from the word go.
"Anyone who knows us as a family knows that we're probably the most un-awkward people in the world. We can get along with anyone. The Lao side of the family was exactly the same. You'll see it in the doco, we're just dancing and mixing and mingling straight away.
"They literally just took us in and we could definitely feel they were family. It wasn't like turning up to a stranger's home, it was like 'we know you guys'."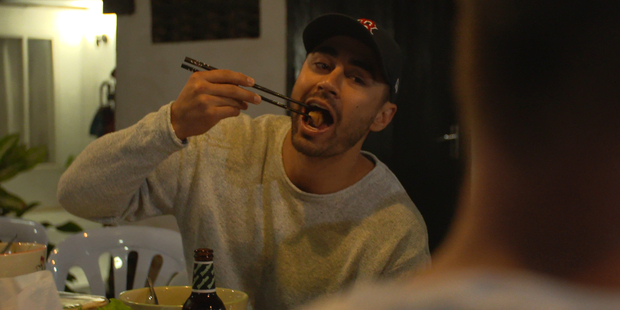 As well as meeting family and seeing where Say grew up, they visited temples and markets, getting a real feel for the Laos way of life.
Recalling his experiences in Laos, Johnson says there are some distinct smells that he'll never forget — some pleasant, some unpleasant.
"We were in Pakse. We went through these crazy markets, man, they just have anything and everything for sale there. They had rows of meat just out in the sun pretty much, only under a little bit of shade and the stench… oh man, that was nasty.
"But a pleasant smell was definitely the food that my aunties put on for us. As soon as you walked into their homes, that's the smell we remember growing up as kids, and what we still get when we go up to mum's house for food."
He says the food in Laos is worth the trip alone.
"I don't really know anyone that's had my mum's food and has disliked it. So to go to Laos and have her sisters cook up the same food — the spring rolls and the sticky chicken and the pho — and for it to be almost as good as mum's… it was pretty cool."
Away from the family, the Johnsons also spent time in the popular tourist area of Vang Vieng where they tried ziplining and river tubing and general sporty activities worthy of a super-fit league star.
He also got to keep up his training, teaching local children some of the moves that have made him a key part of the Warriors' squad at a carnival day hosted by the Laos Rugby Federation.
"Lots of those kids knew who I was, which I was blown away by, I truly was. That was a real highlight for me," Johnson says.
"They couldn't speak English. But they just embraced everything I tried to teach them. We were running these drills and they were just trying their hardest.
"They were so much fun, smiles on their face. The majority of them didn't have boots, they were running in bare feet, but again they didn't care, they were just so happy to be there throwing a ball around with their mates."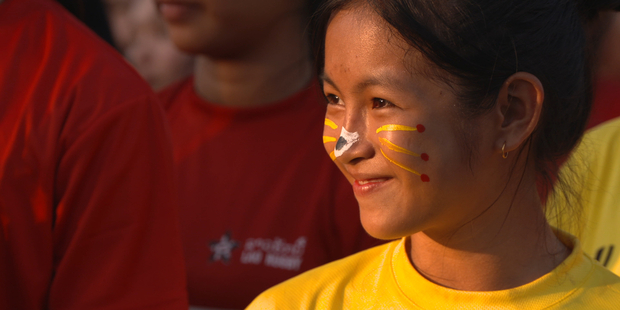 Many of the other highlights came in the trip's quieter moments.
"It's the stuff in between, where you've got down time, you're chilling with your family, your brothers, playing cards, having a few beers, listening to music, laughing and joking, whatever it may be. There were so many cool things along the way."
The documentary certainly shows a side to Johnson that you don't get to see on the rugby field — his close bond with his brothers and his love and admiration for his parents. But Johnson also hopes it shows Laos as a desirable destination for Kiwi travellers.
"I really do think it's a good place for Kiwis to visit. I've been to a few places and I just feel like, if I'm comparing it to other places — Thailand, Bali — it's just more authentic.
"There's not those people who, as soon as you get to a place, are trying to hustle you and harassing you, trying to sell you things. There's people out there working and trying to make a living, but it's like they understand that you're just visiting.
"I genuinely think it would be an awesome place for people to visit," he continues.
"There's the scenic things you can do, the raw, rough, authentic things you can do, and then there's the touristy things. I think it's got a bit of everything."
A return trip to Laos is definitely on the cards, but Johnson says he wants to achieve one thing before he goes back.
"I said when I was there that I want to come back to New Zealand and learn Lao, and then go back and do some things over there with footy. But it's proving quite hard to find a person who can teach me. I could ask my mum, but she's like a freshie when it comes to speaking Laos now apparently!"
Johnson often gets to travel for work with his Warriors commitments, but he's keen to do more under his own steam.
"I love travel. I've been to some pretty cool places with my job, but you don't really get to experience them the way you do if you go with your partner or your mates. I love experiencing new cultures, seeing new things, and just embracing whatever it is. I'll definitely be doing a lot more travelling in years to come."
Shaun Johnson: Across the Mekong premieres on Sky Sport 2, Monday February 27, 8.30pm.