French Int'l School Ends School Year With Perfect Score
Source: KPL
On Jun 30, the French International School of Vientiane hosted the Baccalaureate awards ceremony for the 30 international students who completed their secondary education.
The 2020 promotion had a 100% success rate. The French Ambassador to the Lao PDR, Ms Florence Jeanblanc-Risler, and school's head principal congratulated them in attendance of their families and teachers.
100% Baccalaureate success rate including 83.3% of honourable mentions: these are the results of the French International School of Vientiane for the school year 2020. Among the promotion, 11 students received the mention "Very Good", 8 received a "Good" and 6 an "Above Satisfactory" mention.

The Ambassador and the school's head principal received them and their families at the school on the 30th of June, on its site located in Ban Hadxaykhao, to give them their awards.
With this diploma in hand, the new graduates can now continue their studies anywhere in the world, since the Baccalaureate diploma is recognized internationally by universities and schools overseas.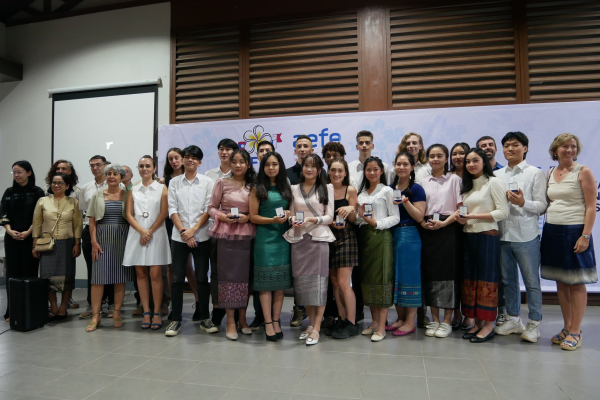 65% of this graduating class has decided to continue their studies in France. Others decided to stay in Asia or move to Canada.
This year's Baccalaureate was quite different since the rules were changed due to the covid-19 pandemic.
The students' grades throughout the year were given extra importance, because of the lockdown. Students had to adapt quickly to distance learning and continue preparing their major from home, with the continued e-support of their educational team.
The French International School of Vientiane has continued to assist students throughout the lockdown. Students have been back to school since then with a strict health protocol, so that students and teachers can learn in a safe environment. The primary school, located on Thadeua Road, followed the same reopening protocol.
The educational team and the teachers are looking forward to welcoming their students, young and older, as well as new ones on September 2nd 2020.
The French International School of Vientiane offers a diversified curriculum based on:
– non-French speaking pupils classes to improve French language skills ;
– a large range of extra-curricular activities such as archery, swimming, badminton and creative workshops for all ages on both campuses;
– LFIV is a state of the art learning environment, and the Primary School will be undergoing important renovations during the summer in order to improve its comfort and attractiveness.